I Have Decided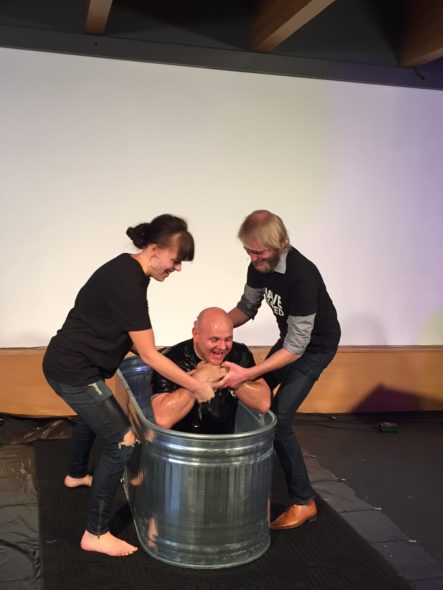 "There is no try, only do or do not."
Can you name the origin of this sage wisdom?
King Solomon perhaps?  Winston Churchill?  Mahatma Gandhi?  Steve Jobs?  Nope – it's none of the above.
It's Yoda of Star Wars fame.
Yoda's statement is all about commitment and conviction.  Do you go into something simply wanting to give it a try, or are you wholeheartedly doing everything you can to ensure success?  Don't just try – do it, or don't do it.
Another euphemism for the same sentiments is to, "Nail your colors to the mast!"  This expression means, "To defiantly display one's opinions and beliefs. Also, to show one's intention to hold on to those beliefs until the end."  It is a refusal to surrender – victory or die trying.
"Your colors" is a reference to your country's flag.  In naval battles, surrender was indicated by "striking your colors" – which meant you would lower your flag and hoist up a flag of surrender.  The origin of this expression "nailing your colors to the mast" dates back to the 1797 during the French Revolutionary Wars.
The expression was coined in reference to the exploits of the crew of the British ship Venerable, at the Battle of Camperdown, a naval engagement that was fought between English and Dutch ships.  The English fleet was led by the Venerable, the flagship of Admiral Adam Duncan. The Dutch had the upper hand in the battle.  Venerable's main mast was struck and their colors came crashing down.
The rest of the English ships could have interpreted this as surrender had it not been for a handy seaman and subsequent national hero, Jack Crawford.  Crawford climbed what was left of the mast with the colors and nailed it back where it was visible to the rest of the fleet.
Crawford's act of "nailing the colors to the mast" rallied the rest of the English fleet.  They turned the tide of the battle and defeated the Dutch fleet.  This victory is attributed by many historians as being the end of the Dutch naval superiority and the beginning of the age of Britain's naval dominance.
"There is no try, only do or do not."  "Nail your colors to the mast."  I saw a bold demonstration of the sentiments of these expressions this past weekend by a man wearing a t-shirt that had a simple phrase emblazoned upon it,
"I have decided."
Nothing more, nothing less.  "I have decided" was all it said.  But what made it so powerful was where he was wearing it.  He was wearing it standing in a horse's watering trough.  The watering trough was unusual for sure, but it was its location that made it truly unique.  It was on a stage on the second floor of a commercial building in a small community where a church was meeting.
This horse's watering trough was their baptismal tank.
And now my friend, who after more than 40 years of life on planet earth, had finally discovered the reason for his existence and was about to nail his colors to the mast.  He was publicly declaring his allegiance to Jesus.   There was no try, it was do or do not time.
He had decided.  He was doing it.
What an awesome celebration!  He was saying goodbye to his old way of thinking, to doing life his way, and he said "yes" to Jesus' new life in him and through him.  The old is now gone, the new life has come.
What do you need to decide to do?  Do you need to get baptized as a public declaration of your allegiance to Jesus?  Is it time to nail your colors to the mast?
Is there another area of your life where Jesus has been inviting you to deepen your commitment, your conviction and your obedience?  Have you been half-heartedly "trying" instead of wholeheartedly "doing"?
Let's decide to follow Jesus.  No turning back.  The world behind us, the cross before us.  Though none go with me, I will still follow.  No turning back.  No turning back.  No try, do it!
I have decided.  Let's be men of conviction, commitment and obedience to Jesus.
Galatians 2:20 (The Message)
"Indeed, I have been crucified with Christ. My ego is no longer central. It is no longer important that I appear righteous before you or have your good opinion, and I am no longer driven to impress God. Christ lives in me. The life you see me living is not 'mine,' but it is lived by faith in the Son of God, who loved me and gave himself for me. I am not going to go back on that."
Hebrews 12:1
"Therefore, since we are surrounded by such a great cloud of witnesses, let us throw off everything that hinders and the sin that so easily entangles. And let us run with perseverance the race marked out for us"
Revelation 3:15, 16
"I know your deeds, that you are neither cold nor hot. I wish you were either one or the other! So, because you are lukewarm—neither hot nor cold—I am about to spit you out of my mouth."