Gritty for God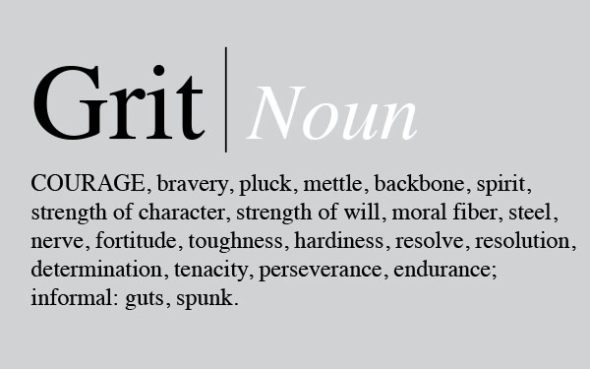 What's the key to success?
This week I heard 2 different answers to that question.  I was in a meeting with a handful of leaders in Vancouver.  The one who called the meeting and was leading our interactions, told a story…
He was speaking at an event with David Foster.  David walked into the audience, which was comprised mainly of young people – university age or early on in their careers.  He asked the same question I just asked you:
"What's the key to success?"
No one in the room gave him the answer he was looking for.  His answer was simply,
"Networking."
Ok, I certainly see networking as being important on a number of fronts.  But, I believe there is something far more important than networking that will actually enable you to be successful.
In fact, I believe there's something that will enable you to do many, many things well.
So, let's jump to another meeting I was in this week, again in Vancouver.  This meeting was a small group of about a dozen leaders, who lead leaders.  They each work with numerous CEOs, entrepreneurs and executives who impact the lives of thousands of employees.
One of these leaders was a former leader in the Jimmy Pattison group of companies.  He was presenting on an issue of relevance to the leaders in the room.  In the midst of his presentation he brought up an expression he often heard Jimmy Pattison declaring as the bottom line to accomplishing anything of value.
No matter what you're pursuing; no matter what you're trying to accomplish; no matter what your goal is, this is the key to success.  Without this you will not accomplish anything of consequence – according to Jimmy Pattison.
So what is Mr. Pattison's key to success?
"You gotta wanna!"
At the end of the day, you have to want it.  You have to have a deep desire to keep moving forward in the face of opposition.  You have to have a fire in your belly that keeps you focused on the task at hand and on the goal ahead, so you don't give up.
I agree with Jimmy Pattison.  If we don't have a passion to persevere we will not succeed.
Angela Duckworth, the author of the New York Times best-selling book Grit would agree as well.
Ms. Duckworth set out to study the key to why some people succeed and others don't.  She wondered if it really is talent and genius that separates success from failure.  The short answer?  No.
At the end of the day; after all the research, Angela Duckworth determined there is one key to success:
Grit.
And what is Grit?  It's passionate perseverance toward a goal.  Grit is the tenacity to keep going in the face of opposition.  Grit is a passionate persistence, an unwillingness to give up.  Five key characteristics of grit include: courage, resilience, conscientiousness, follow through, and excellence – amongst many others.
The power or passion and perseverance is being hailed by many as the key to success.  Grit is it.  Passion is one of the core foundations of success.  And in the vernacular of Jimmy Pattison that's referred to as, "You Gotta Wanna".
So if grit is the engine driving us toward our goals, we would be wise to ensure our goals align with God's definition of success.  I would suggest a Godly definition of success is, in Paul's words, "to take hold of that for which Christ took hold of me."  God in me and through me.  And to do that, we must know His Word.
So how badly do you want to know Him, and His plans for your life?  Perhaps our prayer needs to be, "Lord, please change my heart so that, above all things, I want you."?  We must dive into His Word and be changed by it.
How much grit for God do you have?  Do you demonstrate a passionate persistence to know Jesus and follow Him?  Are you pursuing God through His Word?  Is your goal God Himself?
Our success is found only in God, in us and through us.
True success?  Let's get Gritty for God.  You gotta wanna!
Psalm 73:25
"Whom have I in heaven but you? And earth has nothing I desire besides you."
Jeremiah 29:11-14a
"'For I know the plans I have for you,' declares the Lord, 'plans to prosper you and not to harm you, plans to give you hope and a future. Then you will call on me and come and pray to me, and I will listen to you. You will seek me and find me when you seek me with all your heart.  I will be found by you,' declares the Lord."
Joshua 1:7, 8
"Be strong and very courageous. Be careful to obey all the law my servant Moses gave you; do not turn from it to the right or to the left, that you may be successful wherever you go. Keep this Book of the Law always on your lips; meditate on it day and night, so that you may be careful to do everything written in it. Then you will be prosperous and successful."
Philippians 3:12-14
"Not that I have already obtained all this, or have already arrived at my goal, but I press on to take hold of that for which Christ Jesus took hold of me. Brothers and sisters, I do not consider myself yet to have taken hold of it. But one thing I do: Forgetting what is behind and straining toward what is ahead, I press on toward the goal to win the prize for which God has called me heavenward in Christ Jesus."