Standing Firm in Him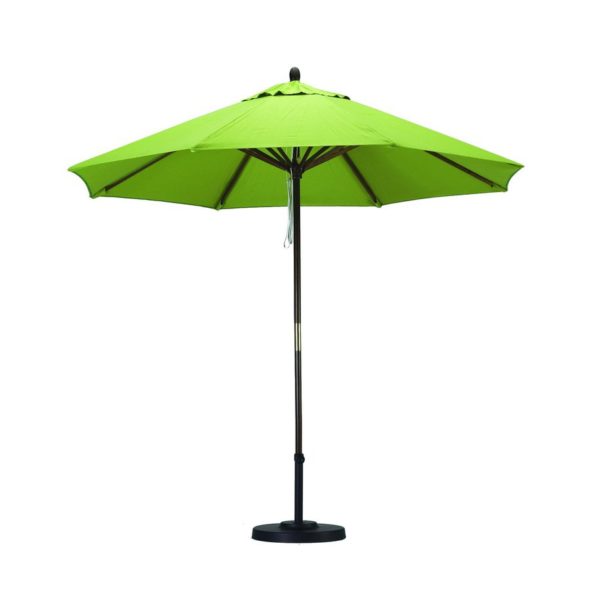 Do you have patio umbrellas?
We have 3 of them.  They are all 9' in diameter.
One is in our patio dining table and the other 2 are stand-alone umbrellas plugged into 2 different bases to give them support.  One sits behind and over top of 2 Muskoka chairs where Anne and I often sit.  The other one is an "extra" that we set up behind our sectional if the sun is shining directly onto it.
All three block out the sun and the rain.  They are all attractive and add to the aesthetic of the patio.  They all have the same cranking mechanism to open up and close the umbrella.  Each one of them can tilt as well.
However, there is a key difference in one of them…
We generally leave the umbrellas up regardless of the weather, but whenever the wind starts to blow we crank them all down to reduce wind resistance to ensure they don't blow away.
I noticed something today when the wind began to blow.  Two of the umbrellas held fast – no chance of them falling down or blowing away.  One of them fell down immediately.  As I watched it fall over I thought,
"I don't want to be that kind of man – toppling over at the first sign of opposition."
So why do the 2 umbrellas hold fast and the 1 umbrella falls over when the wind blows?  The secret to their strength lies in their base.  All three umbrellas are equal except for the base they stand upon.
The umbrella in the dining table has 2 points of support, at the ground level and at the table height.  The umbrella covering the Muskoka chairs has a very heavy cast iron 4 square foot base with a locking nut to hold the umbrella firm.
The weakest umbrella, the one that easily falls down, is in a light weight round metal base.  It has a locking nut as well, but the round base is too light and unstable because of its shape.  That's the reason this umbrella cannot hold fast in the face of opposition.
What about you?  What kind of base are you standing upon?  Are you like the umbrellas holding fast to a firm foundation that can withstand strong winds?  Or, are you like the one umbrella standing upon a weak foundation that topples over when the wind comes?
What enables us to stand firm when we face opposition?  What is the foundation we need to be standing upon?
God/Jesus.
What does that mean?  How do we stand in Jesus?
King David spoke often about the Lord being his rock, his fortress, his refuge, his stronghold.
David would run to the Lord for His help.  David would stand in the Truth of who God is and what God had promised.  David also spoke about how the Lord would lift him out of a pit and put him on a rock.  The rock of Truth.
David had to choose to believe God, and that He is who He said He is.  He had to put his faith in God.
Jesus came saying that He is the Way, the Truth and the Life.  He also said that if we want to build our lives on a firm foundation we need to obey His words.  Not just believe His words, but put them into practice.  We must believe that He is who He said He is, and then obey what He has asked us to do.
Belief in, and obedience to God is our rock.
Paul outlines how we can stand firm in the face of spiritual opposition: Truth, Faith, the Word of God, the righteousness and salvation of Christ, and the Gospel of the Kingdom.  This is a life that is built on belief in and obedience to Jesus and His Word.
The only firm foundation we can stand on is Jesus, believing and obeying the Truth.
If you find yourself "toppling over" in the face of opposition, take a look at where you're standing on your own and not in Christ.  Where are you not believing in and obeying Him?
Let's be wise "umbrellas" standing firm in Him.
Matthew 7:24, 25
 "Therefore everyone who hears these words of mine and puts them into practice is like a wise man who built his house on the rock. The rain came down, the streams rose, and the winds blew and beat against that house; yet it did not fall, because it had its foundation on the rock."
Psalm 40:2
"He lifted me out of the slimy pit, out of the mud and mire; he set my feet on a rock and gave me a firm place to stand."
Ephesians 6:14-17
"Stand firm then, with the belt of truth buckled around your waist, with the breastplate of righteousness in place, and with your feet fitted with the readiness that comes from the gospel of peace. In addition to all this, take up the shield of faith, with which you can extinguish all the flaming arrows of the evil one. Take the helmet of salvation and the sword of the Spirit, which is the word of God."
Psalm 18:2
"The Lord is my rock, my fortress and my deliverer; my God is my rock, in whom I take refuge, my shield and the horn of my salvation, my stronghold."